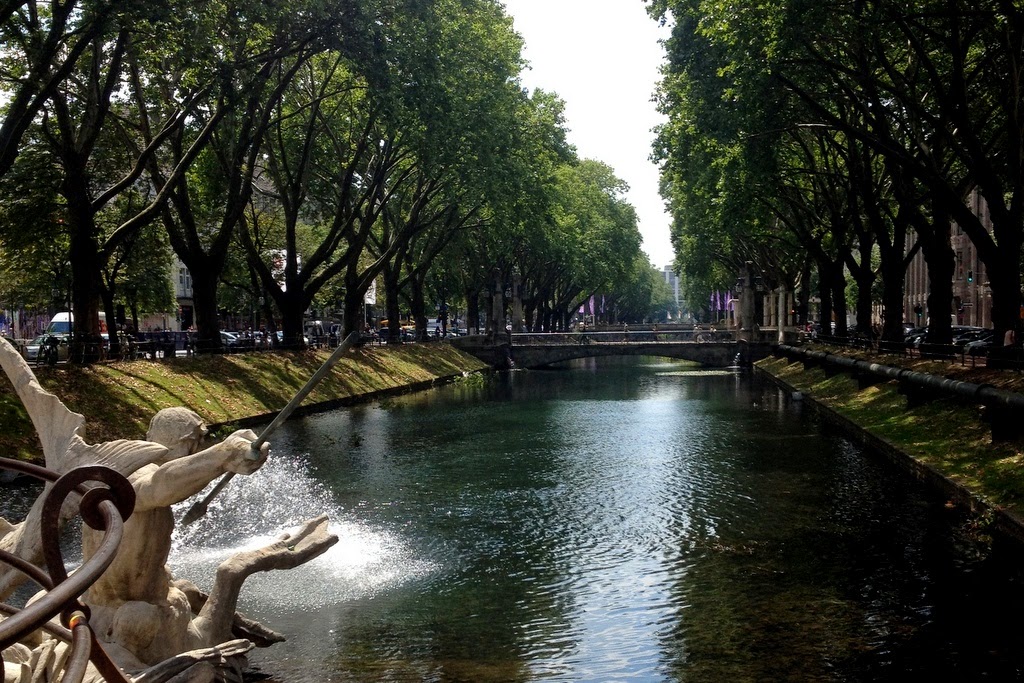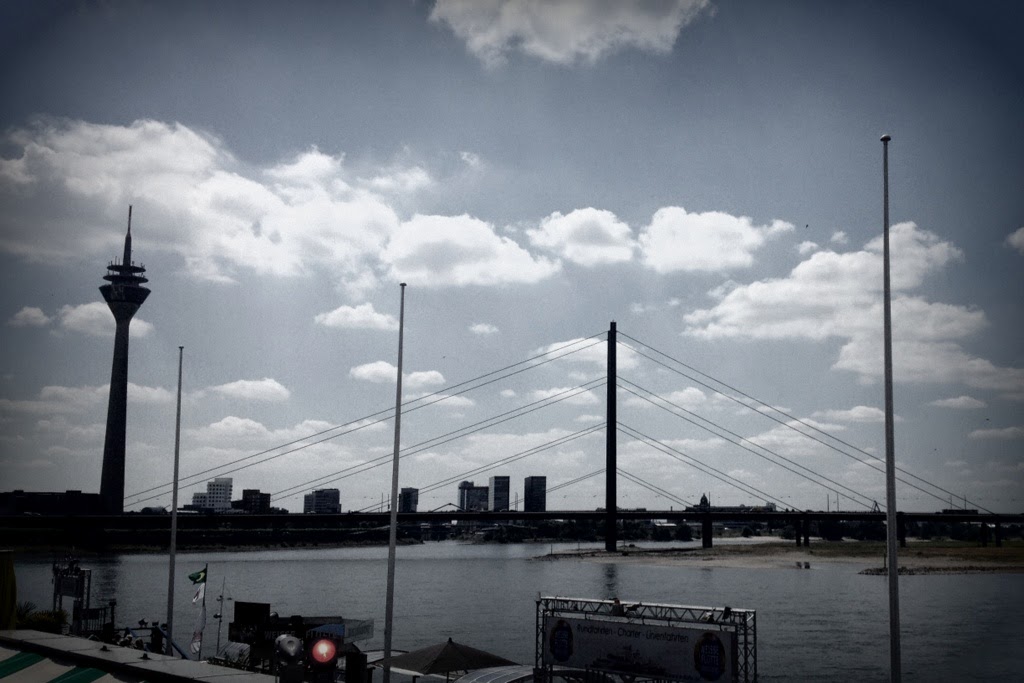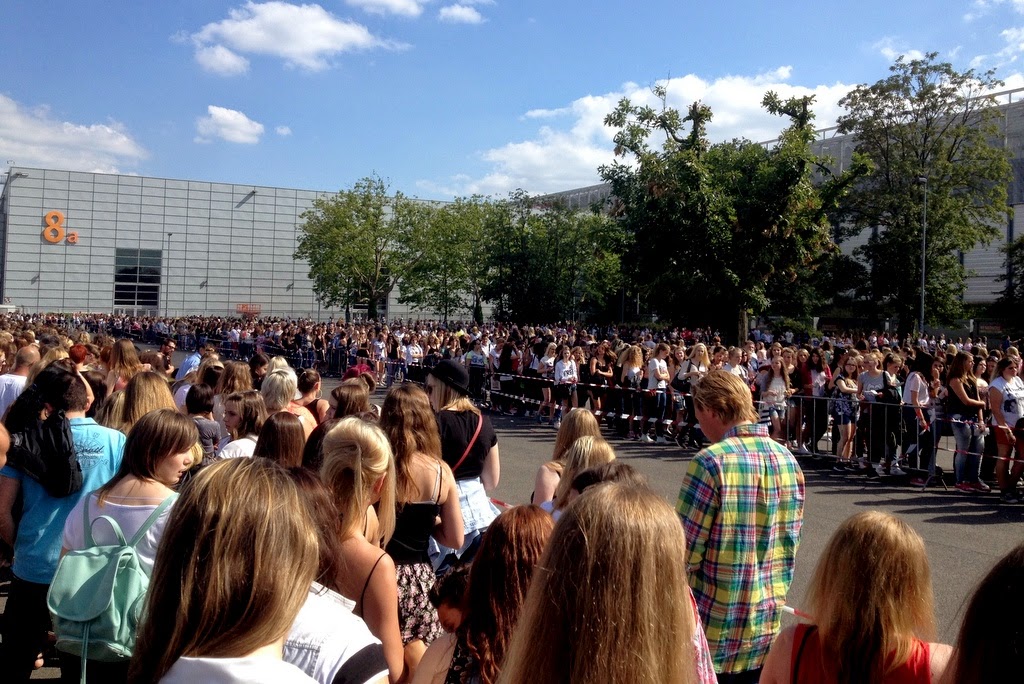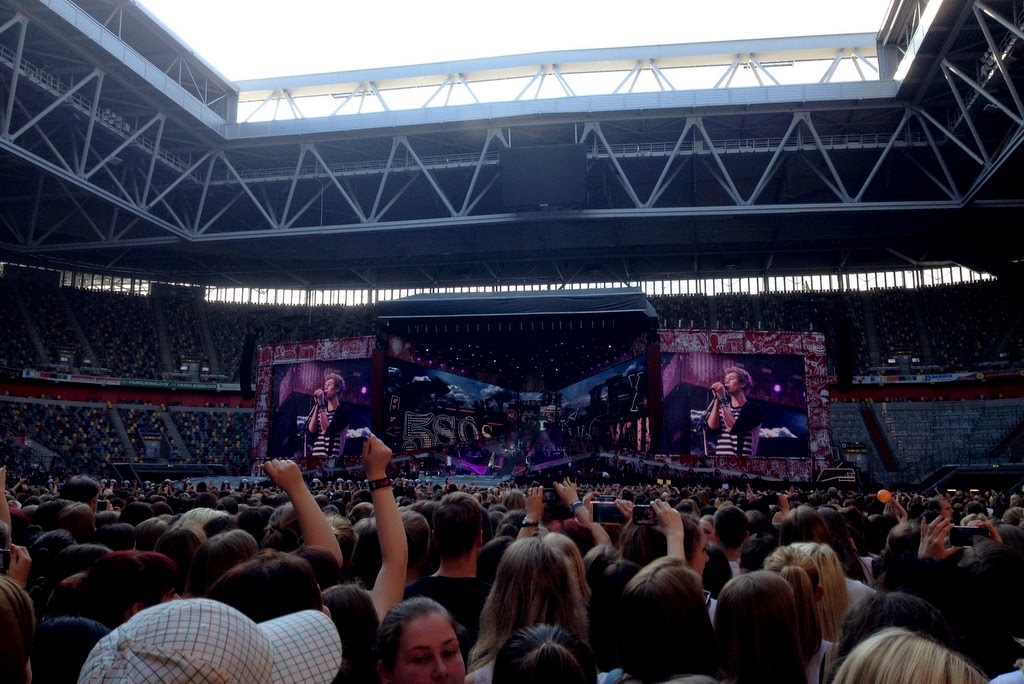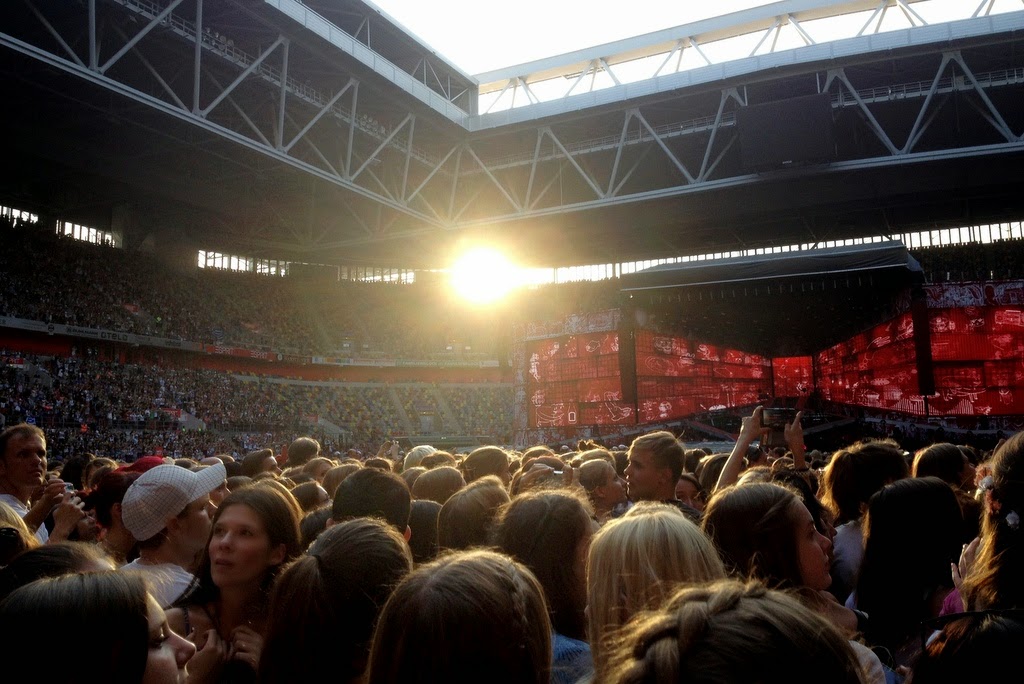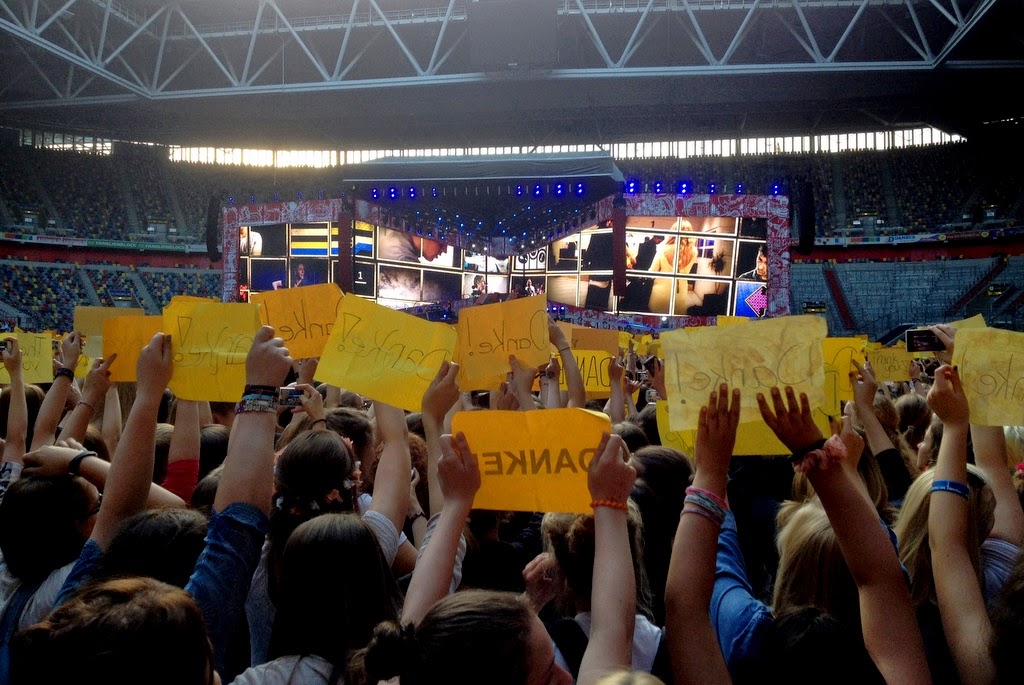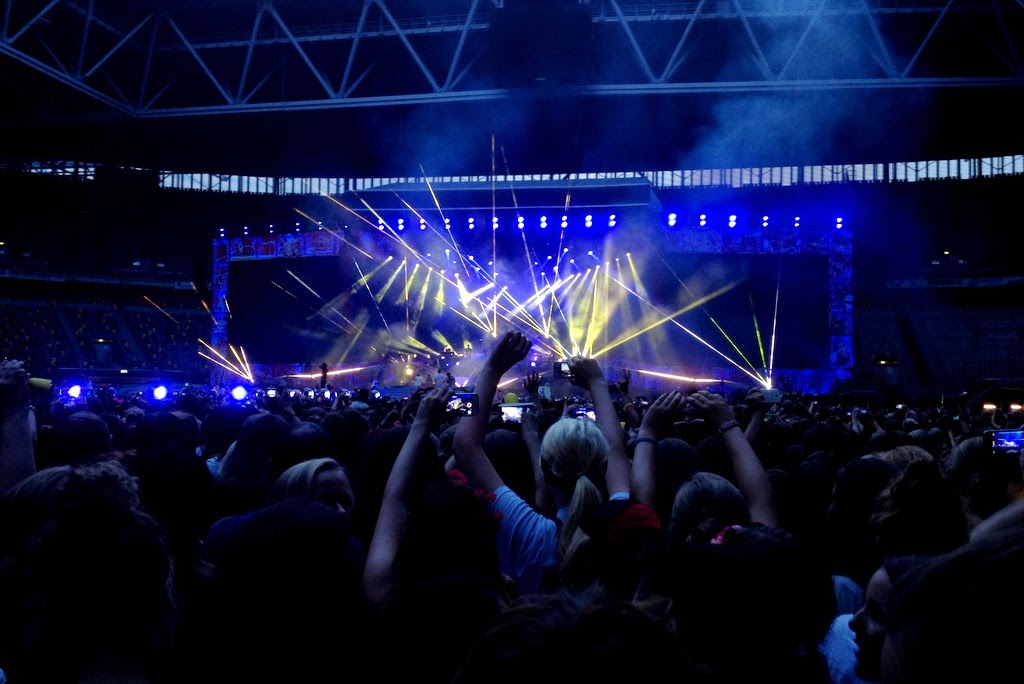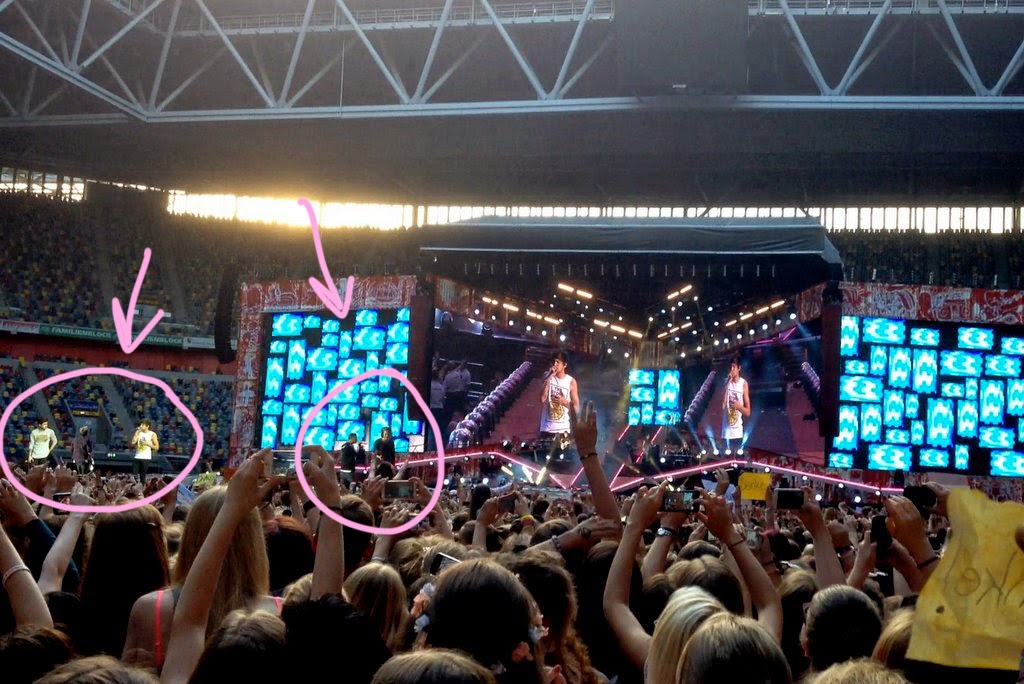 Schonmal mit 45.000 Menschen Maccarena getanzt? Dani und ich jetzt schon!
Denn wir haben es wirklich getan, wir waren auf dem einzigen One Direction Konzert in Deutschland mit 10.000en wahnsinnigen Teenagern. Und es war großartig!
Per Roadtrip ging es morgens früh nach Düsseldorf, wo wir erstmal die Sonne auf der Kö genossen und den genialen Blick über das Rheinufer, bevor wir nachmittags zur Arena fuhren und uns in eine schier unendliche Schlange aus größtenteils Mädels U18 einzureihen. Der Weg der Verwüstung bis zum Stadion beinhaltete alles von vollen Kekspackungen bis zu hektisch abgebrochenen Zelten.
Das Stadion selbst war riesig und aufgrund unseres Größenvorteils gegenüber den anderen Mädels hatten wir auch noch eine tolle Sicht. Die Stimmung kochte von der ersten Minute an und ich war noch nie auf einem Konzert bei dem die Fans so abgingen und so toll miteinander umgingen. Und ich war auf vielen Konzerten.
Und wenn man sich an das völlig irrationale Gekreische gewöhnt hatte, war alles ziemlich perfekt. Die Vorband 5 Seconds of Summer war klasse, das Wetter hätte besser nicht sein können und One Direction selbst übertrafen alle meine Erwartungen. Krasse Show. Jeder Cent und jeder Kilometer haben sich gelohnt und einen Tag 16 sein zu dürfen war ziemlich fantastisch.
Also Haters Back Off, wir würden es wieder tun!
English Version:
Have you ever danced Maccarena with 45.000 people? Dani and I did!
We really did it, we visited the only One Direction concert in Germany with more than 40.000 crazy Teenagers. And it was amazing!
We started our Roadtrip to Düsseldorf early in the morning and first enjoyed the sun on the Königsallee and the beautiful view over the Rhein before we went back to the arena in the afternoon. We stood in a nearly endless road of girls mostly under 18.
The stadium was giant and because of our height benefits we had a great view. The atmosphere was explosive from the first minute and I've never been on a concert with such supportive fans, even for the band and for each other. And I visited many concerts.
And after we got used to the irrational screaming surrounding us everything was really perfect.
The support act 5SOS was wonderful, we couldn't have asked for better weather and One Direction topped all my expectations. Fabulous Show. Every Cent and kilometre we spent was totally worth it and having the chance to be 16 again for a day was fantastic.
So Haters Back Off, we would totally do it again!