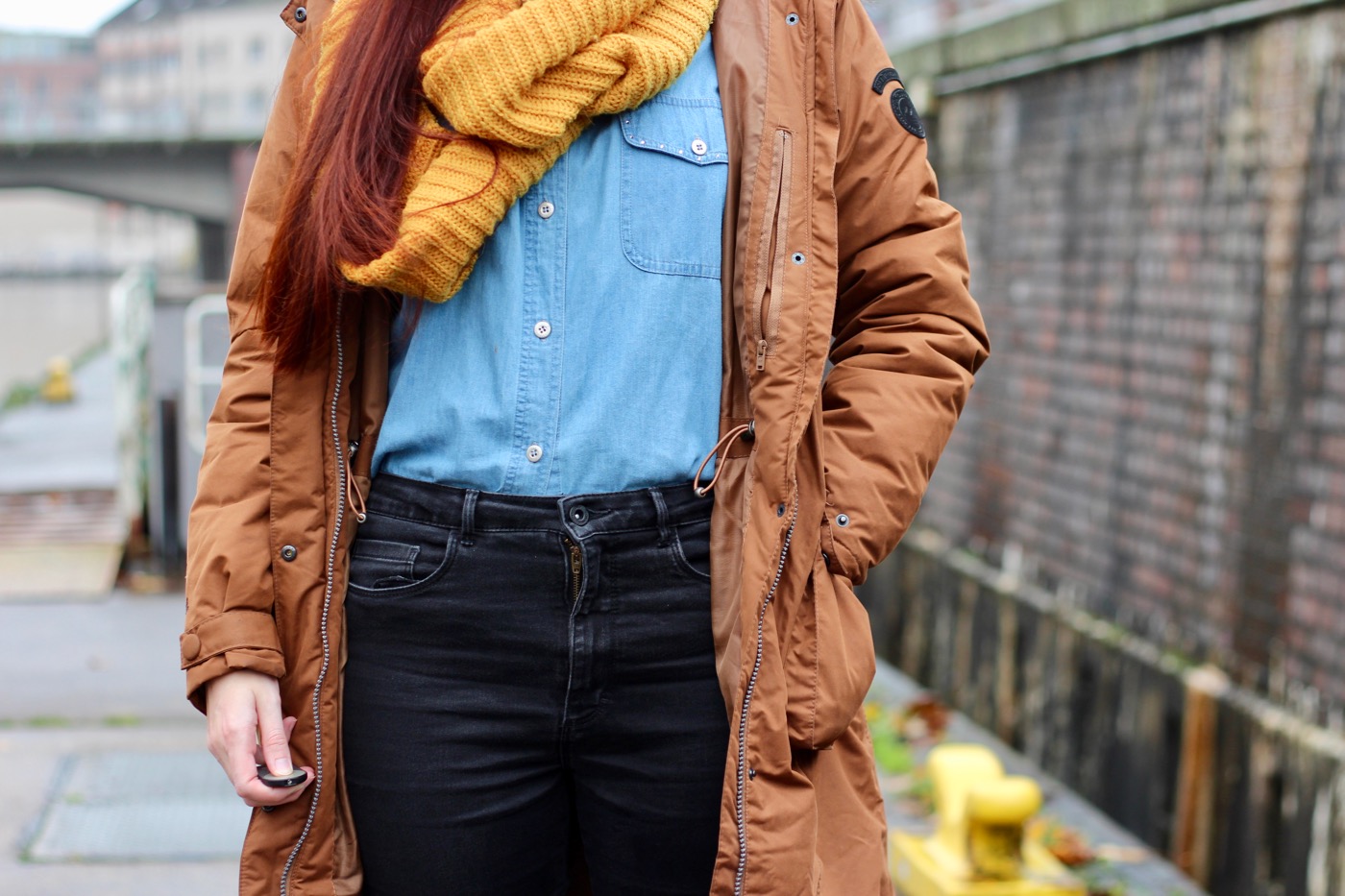 Hello everyone,
I shot my last outfit a few weeks ago – without a coat and in the green nature. These times are over for this year and the famous Schietwetter rules Hamburg now. Schietwetter describes the weather that's characteristic for Hamburg: Cold, windy, always a bit rainy, it feels like EVERYTHING is wet and it lasts for days. The kind of weather were an umbrella doesn't protect you – you will still be wet, even if you're just out for 5 minutes.
I don't really get how so many fashion bloggers and women in general manage to go out with a thin wool coat and tights. I'm always freezing so here's a realistic winter outfit for me. And of course it's fair too.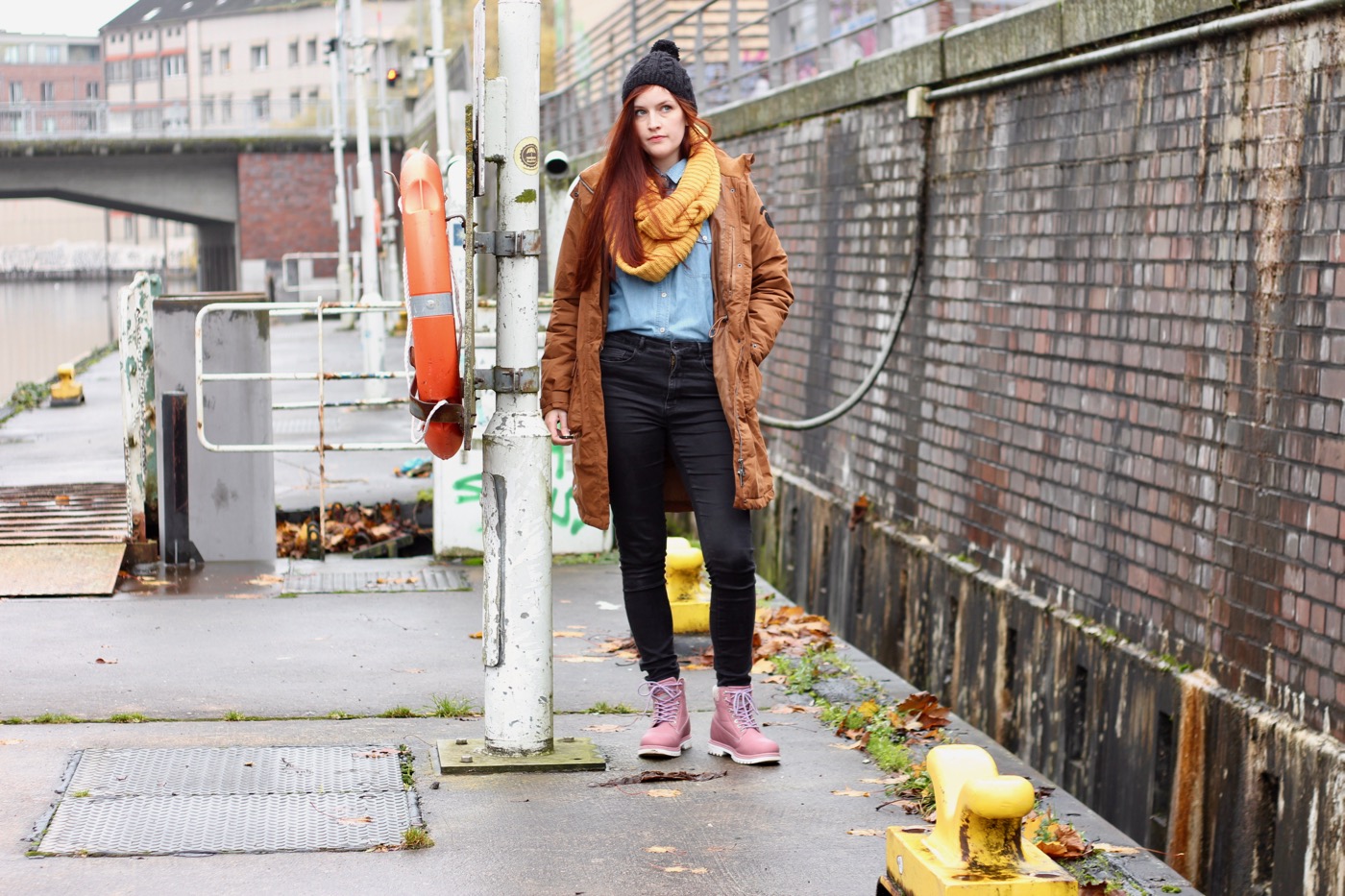 The location is right next to where I shot the dungarees outfit in August. I like to shoot here, because I know that there aren't too many people around, watching me posing awkwardly. It get's better every time but I still feel like a weirdo when I place my camera to take pictures of myself. I still prefer being behind it.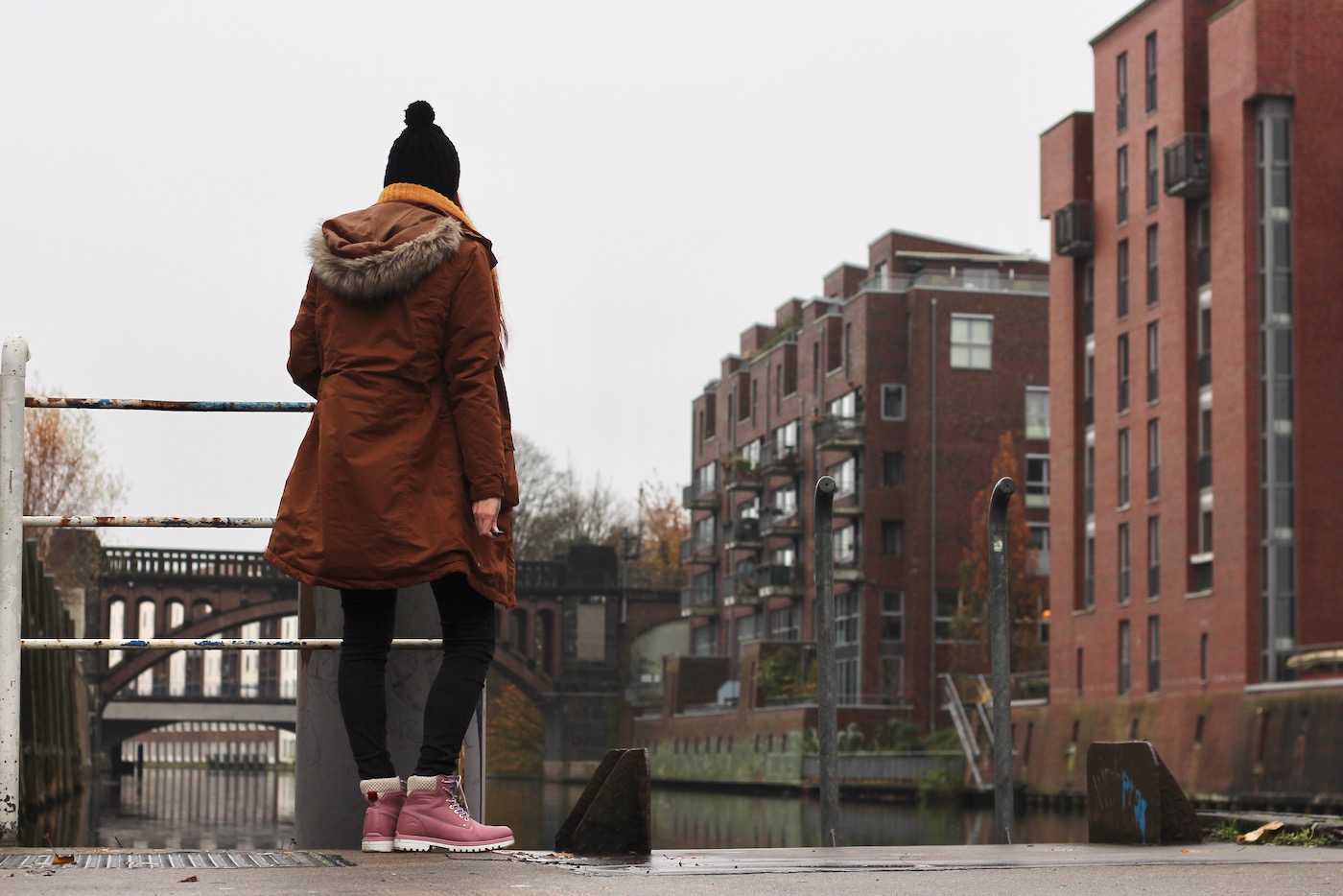 After my first winter in Hamburg I learned that a coat has to be 1. long and 2. waterproof. I already bought a coat last winter, but it's really warm and really heavy so I might wear this in January when it gets REALLY cold. I discovered this one on Kleiderkreisel (German version of depop) on the day before I started my shopping ban. I made a last try to find a lightweight winter coat second hand and I'm really happy with this one. It was only 20 € because the pockets are a bit ripped but nothing you couldn't fix with a few stitches. It's warm, it's lightweight (which is important for hiking) and the fur is fake fur of course. Really happy with my purchase, I think I'll get a lot of wear out of it.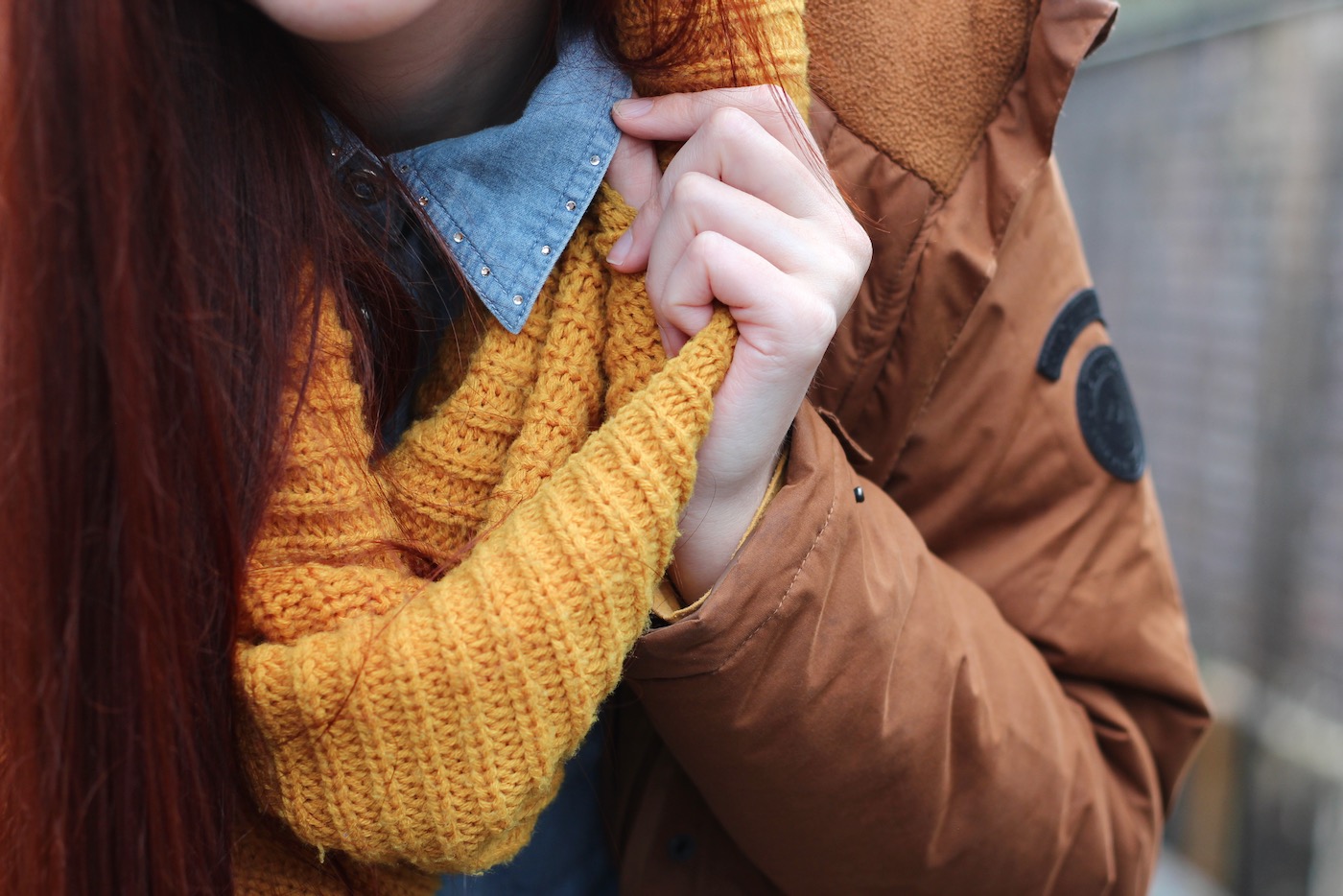 I bought this scarf many years ago and I don't know where I got it. I wore it every day in my first semester at university, but I kind of forgot about it. Now it's back in the game.
The denim shirt is a vintage find out of my mums closet. She wore it in the 80s, so it's real vintage and has a story. And because it has a bit of bling I don't need to worry about jewellery. It's oversized, soft because it was worn a lot and I really like it.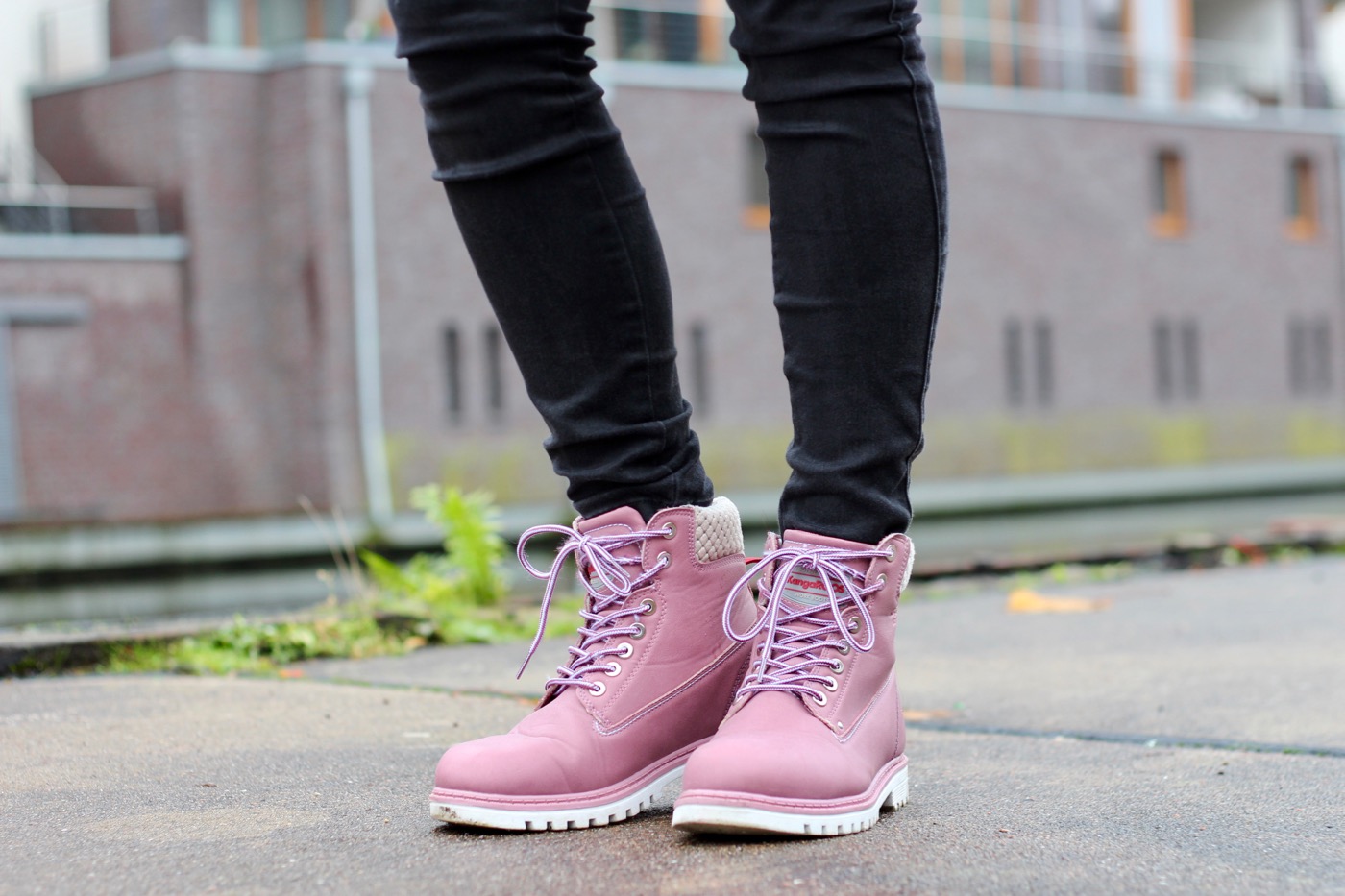 I got these boots a few weeks ago on Ubup, a German second hand online shop. They are huge and heavy and there's a lot of space for wool socks inside. They are used but they look almost new after I cleaned them properly. They cost my about 20 Euro. And they definitely bring some colour in a winter outfit!
The trousers aren't fair. They are from the German brand ONLY and they were one of the last pieces I bought before I switched to fair fashion. I hope I will wear the for a long time because they fit perfectly and I really struggle with finding tight, fitting trousers that are long enough for me. If you have any suggestions for fair tight black trousers, leave them in the comments!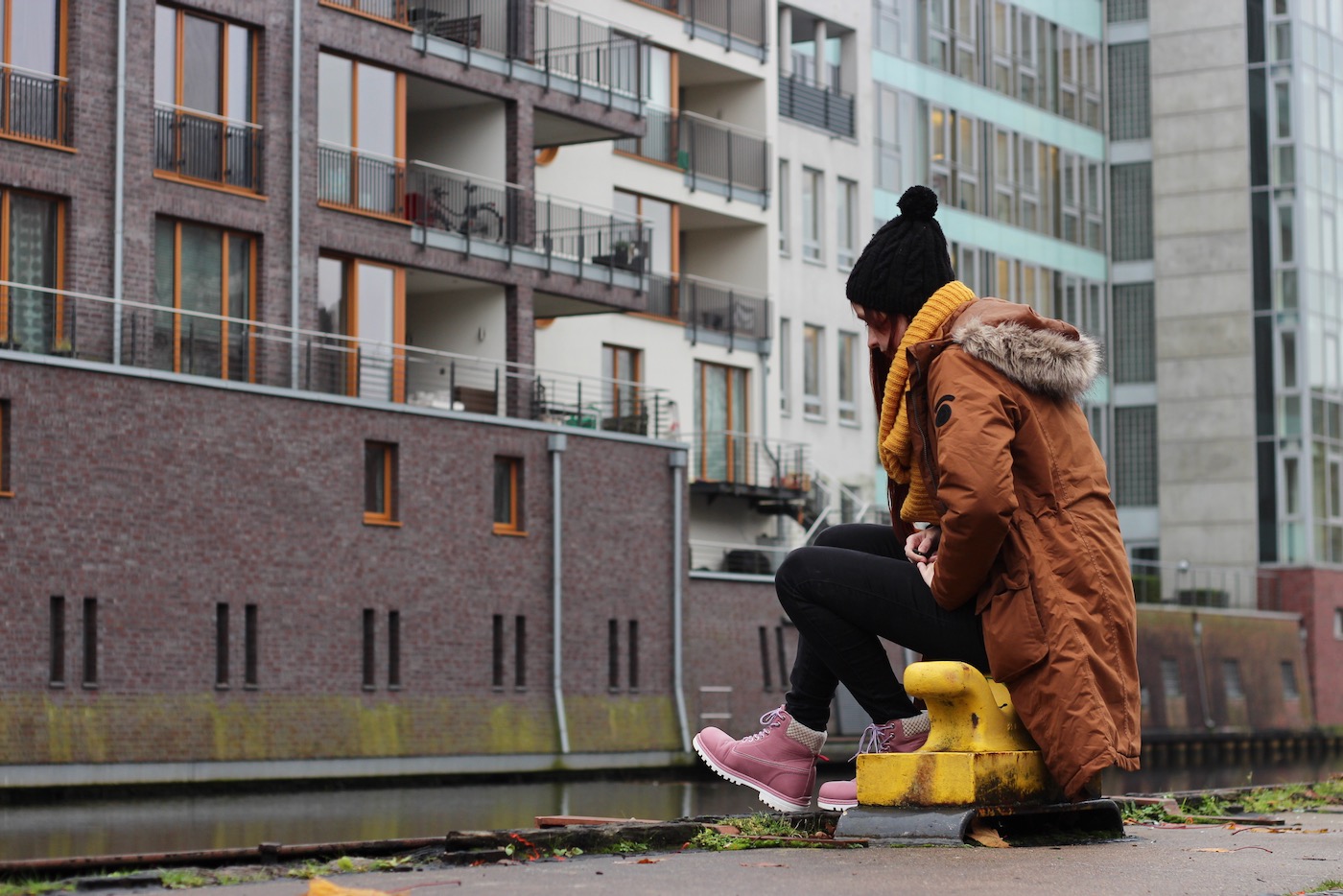 The hat is knitted by my grandma years ago. So it's kind of a family outfit this time.
And here's a fancy picture in front of a graffiti. Is that how the cool kids do it?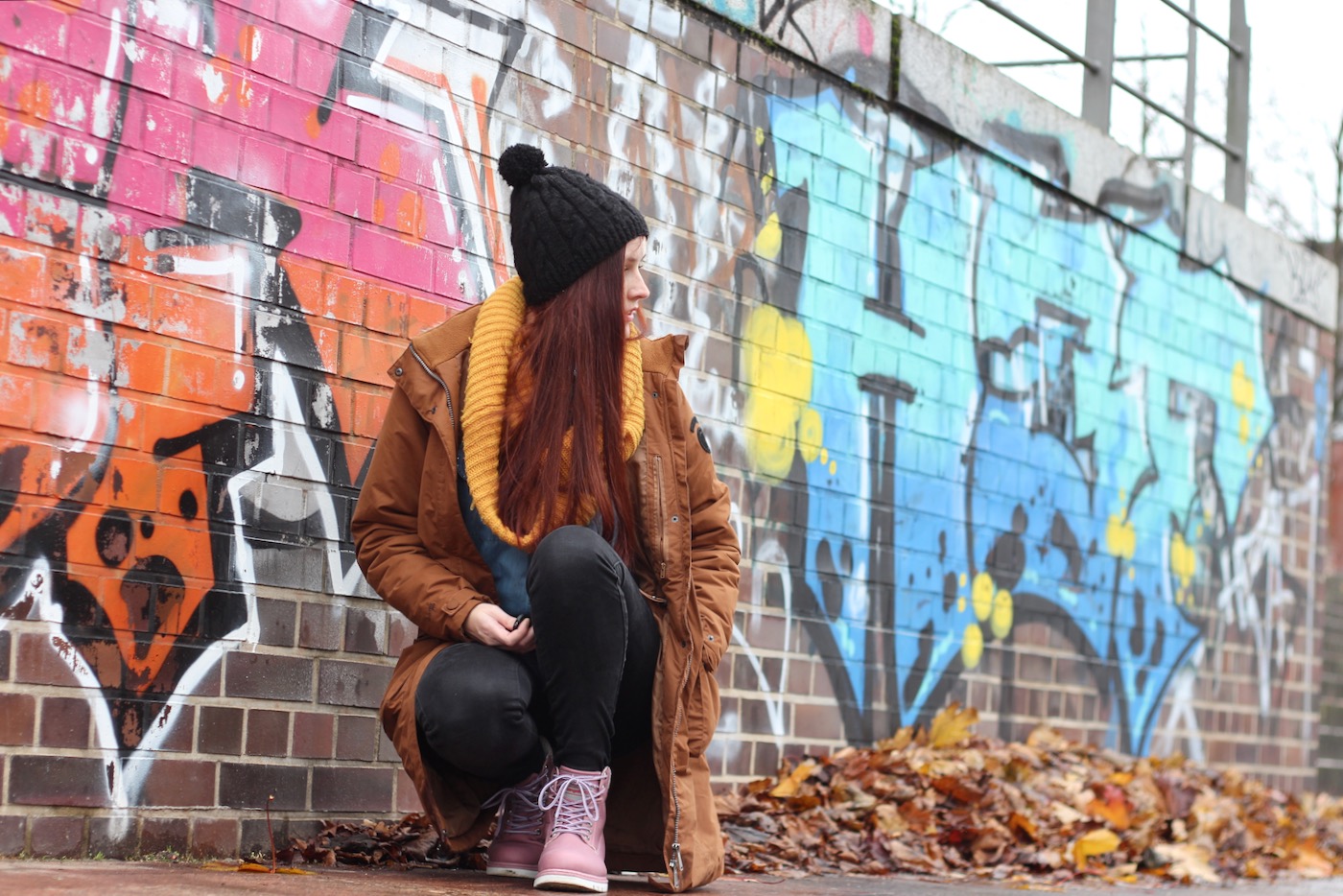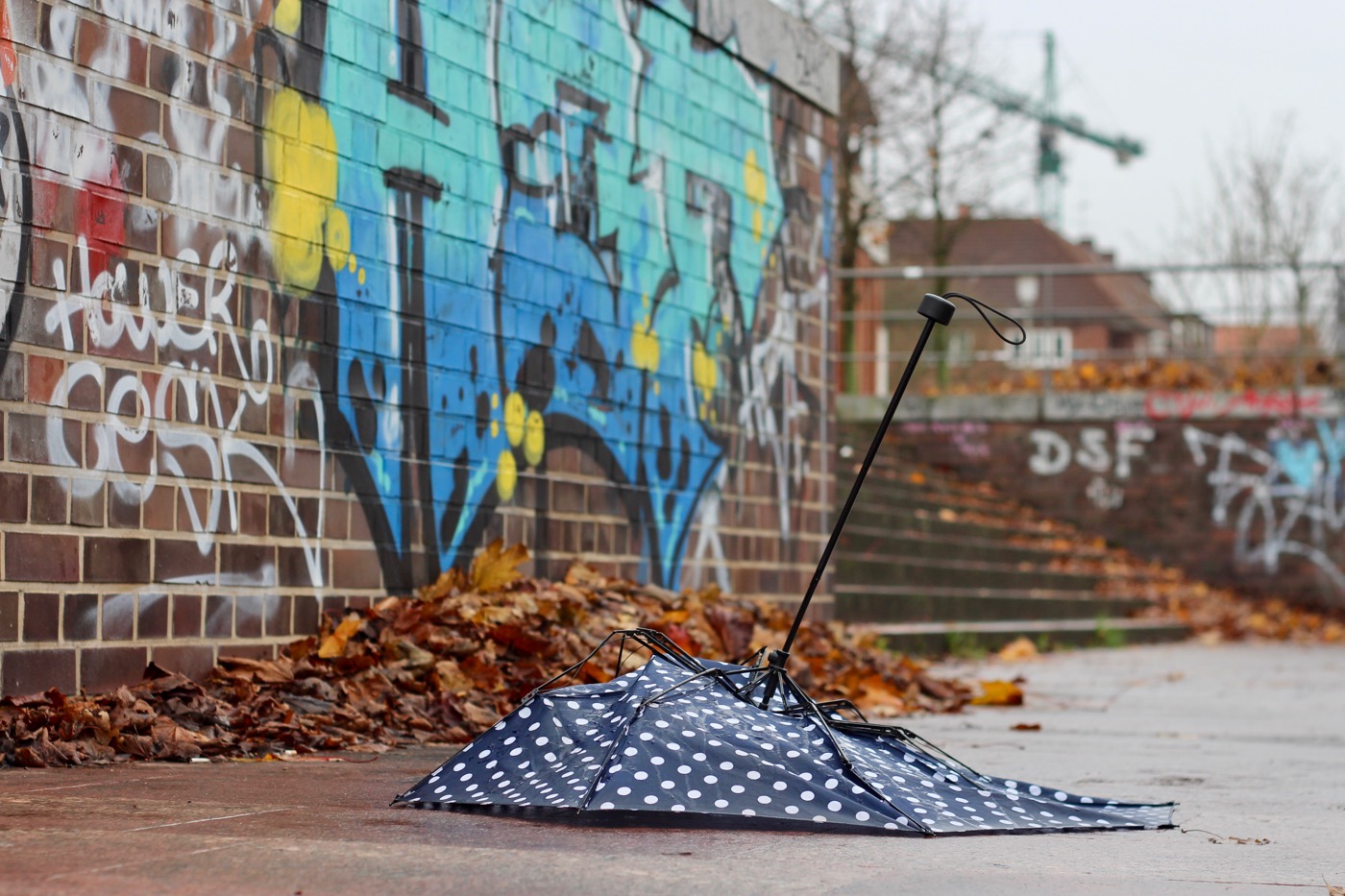 And last but not least: A small finding that characterises the phenomenon of "Schietwetter" perfectly: A destroyed Umbrella. It's just to windy here to really use them.
That was the seventh fair outfit. I'll try to do the 10×10 Challenge in December, we'll see how this goes.
What's your must have piece when the weather is disgusting?
Anni
Zum Abschluss noch das ultimative Schietwetter-Fundstück: Ein kaputter Schirm. Nirgends habe ich bisher so viele kaputte Schirme in einer Stadt herumliegen sehen wie in Hamburg. Sie stecken in Mülleimer, liegen wie dieser hier einfach auf der Straße oder vor Hautüren herum. Ein billiger Faltschirm ist hier auch quasi ein "Anfängerfehler". Wenn es regnet, ist es meistens auch windig. Und für den Wind sind die Drogerie-Winzlinge einfach nicht geeignet. Und nass wird man sowieso, ob mir oder ohne Schirm.
Das war das siebte faire Outfit. Im Dezember werde ich versuchen an der 10×10 Challenge teilzunehmen, der Post dazu kommt voraussichtlich am 10.12.
Was ist euer Must-Have bei ekligem Winterwetter?
Anni