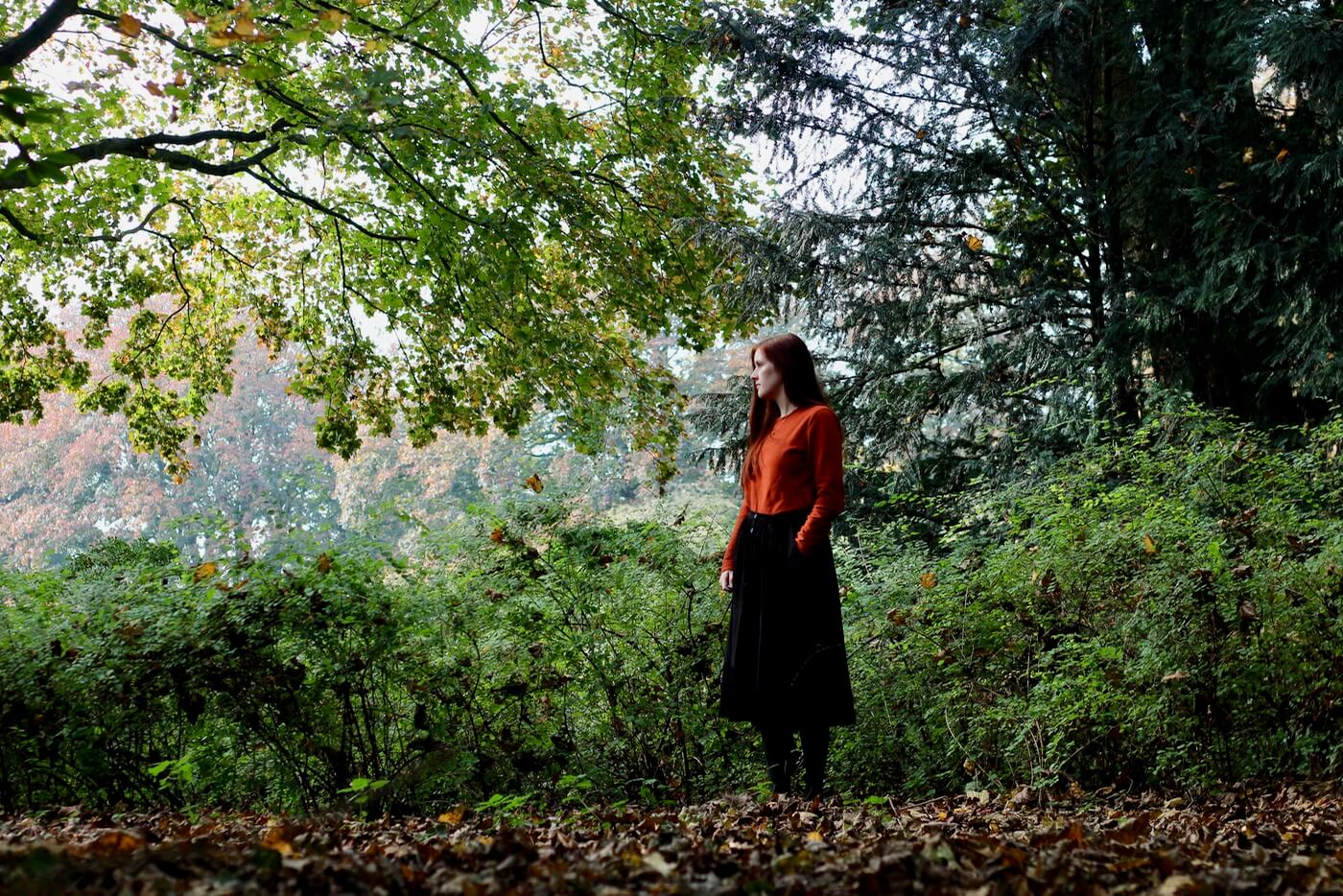 Hello everybody,
after Hurricane Ophelia brought us a real summer day in the middle of autumn I took the chance to shoot a new fair outfit for you. I really enjoyed the hours in the sunny nature. Today's outfit is all about autumn colours and my black midi skirt. I had a skirt like this on my Pinterest board for quite a while but I felt like it's to classy and elegant for me. I usually wear denim jeans or shorter dresses. But with the days getting colder and the jackets longer I try to get used to this new length of skirts.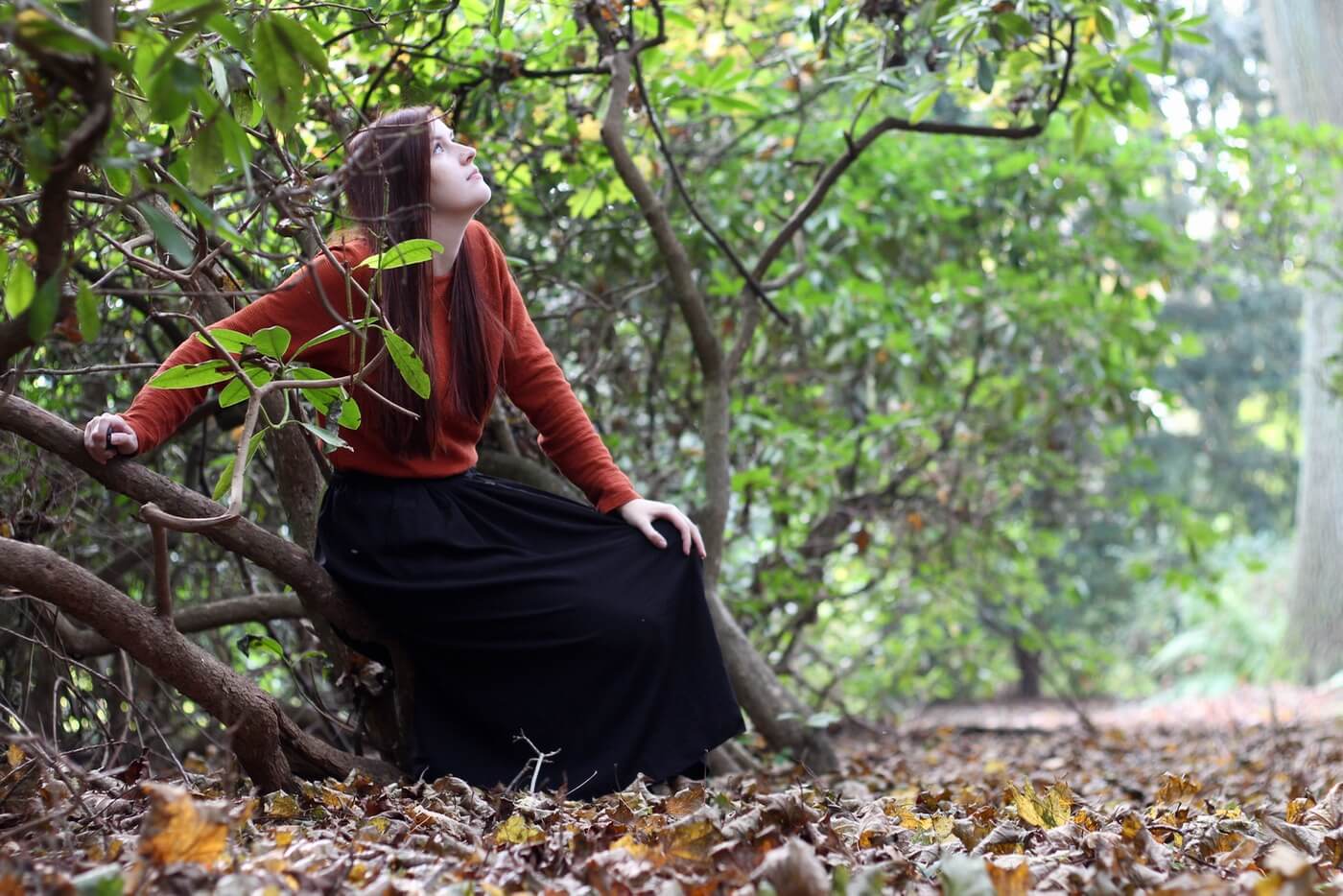 I found the skirt second hand on Kleiderkreisel (the German version of Depop) a view weeks ago for just 5 Euro. It looks like it's brand new. It's from viscose and nice and flowy. The buttons in the front (which I didn't manage to photograph properly) make it more interesting and my favourite thing are the pockets in the front (because I usually struggle with what to do with my hands in conversations). The skirt is originally by monki. I like that you don't have to put thought in how to sit in a skirt like this, because it's very unlikely that it will show anything. Plus you can put thermal leggings or shorts underneath and nobody will notice. You'll still look elegant af. Everything I could ask for in a skirt!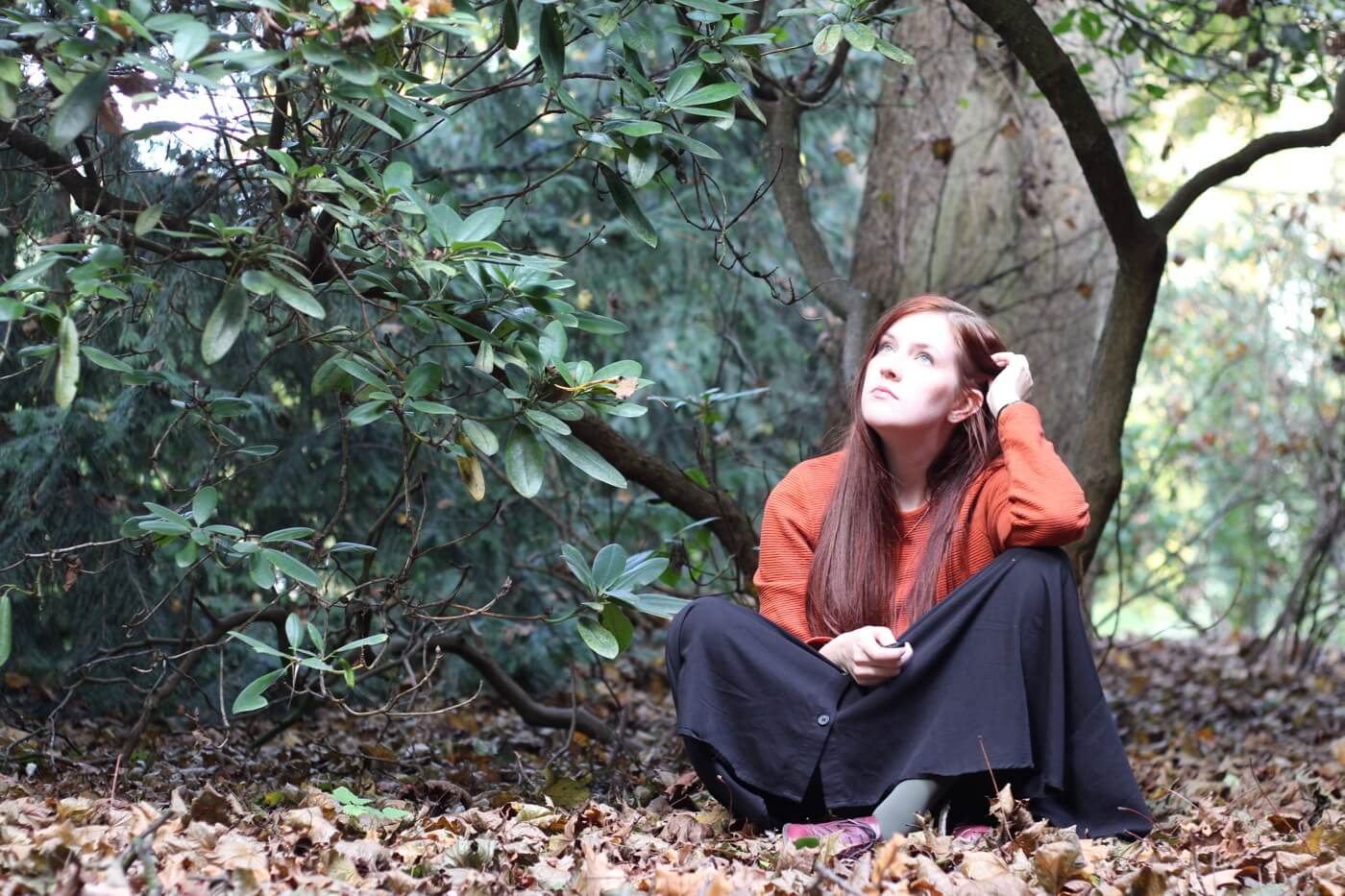 The rusty Sweater is second hand from Kleiderkreisel, too. It hasn't been worn and cost me 15 Euro (100% cotton). It has a nice structure on the outside and is soft and cosy on the inside. Once again: Looks nice, while it's super comfortable. It brings a pop of colour to every boring outfit and I like how it works with my hair colour.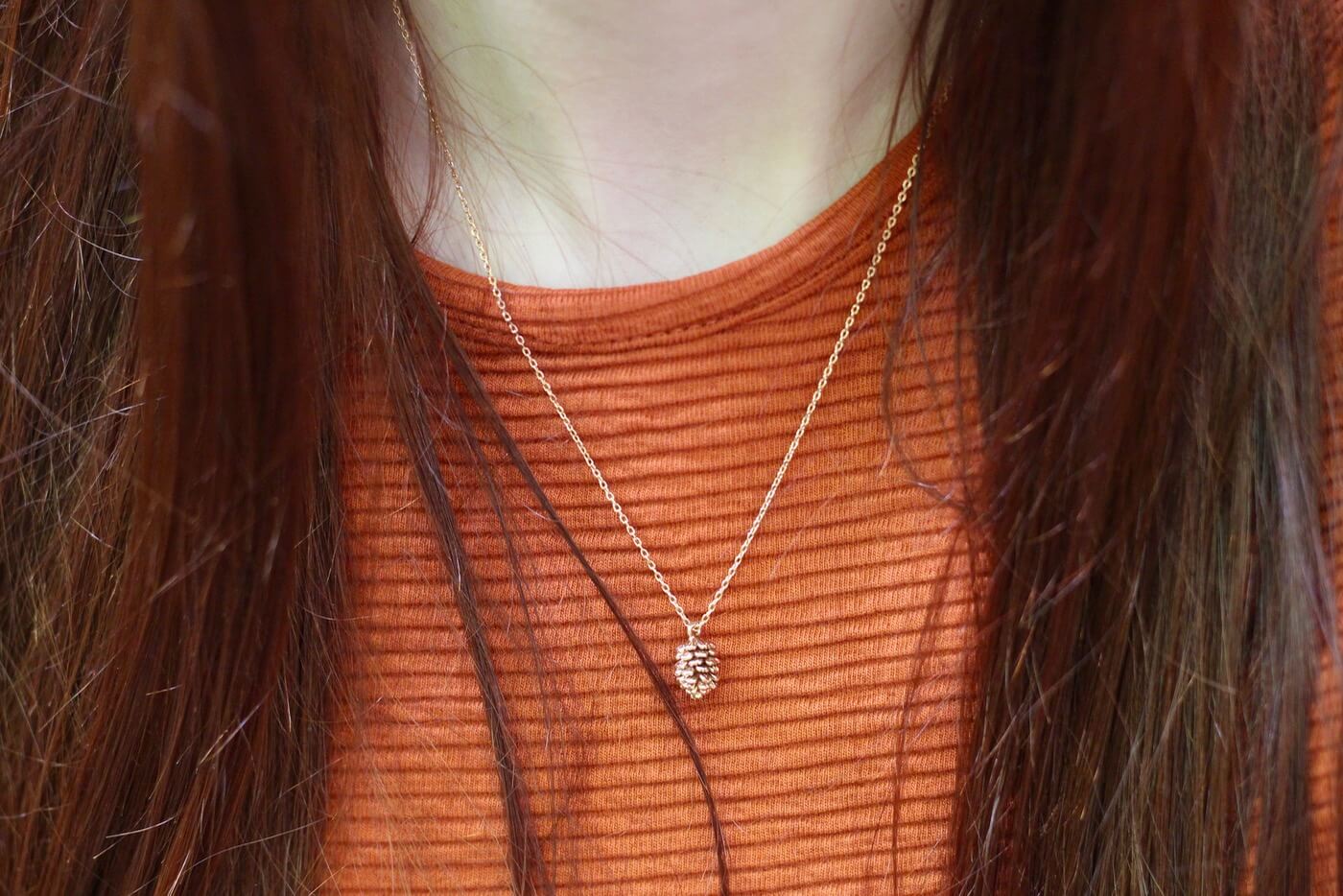 I really love the necklace. It was a present and it's from an easy shop. I don't know which one exactly, but here's one that's quite similar that ships from Italy (depending on where you live, there might be a closer and more environmentally friendly option). I already showed you the necklace in my dungarees outfit.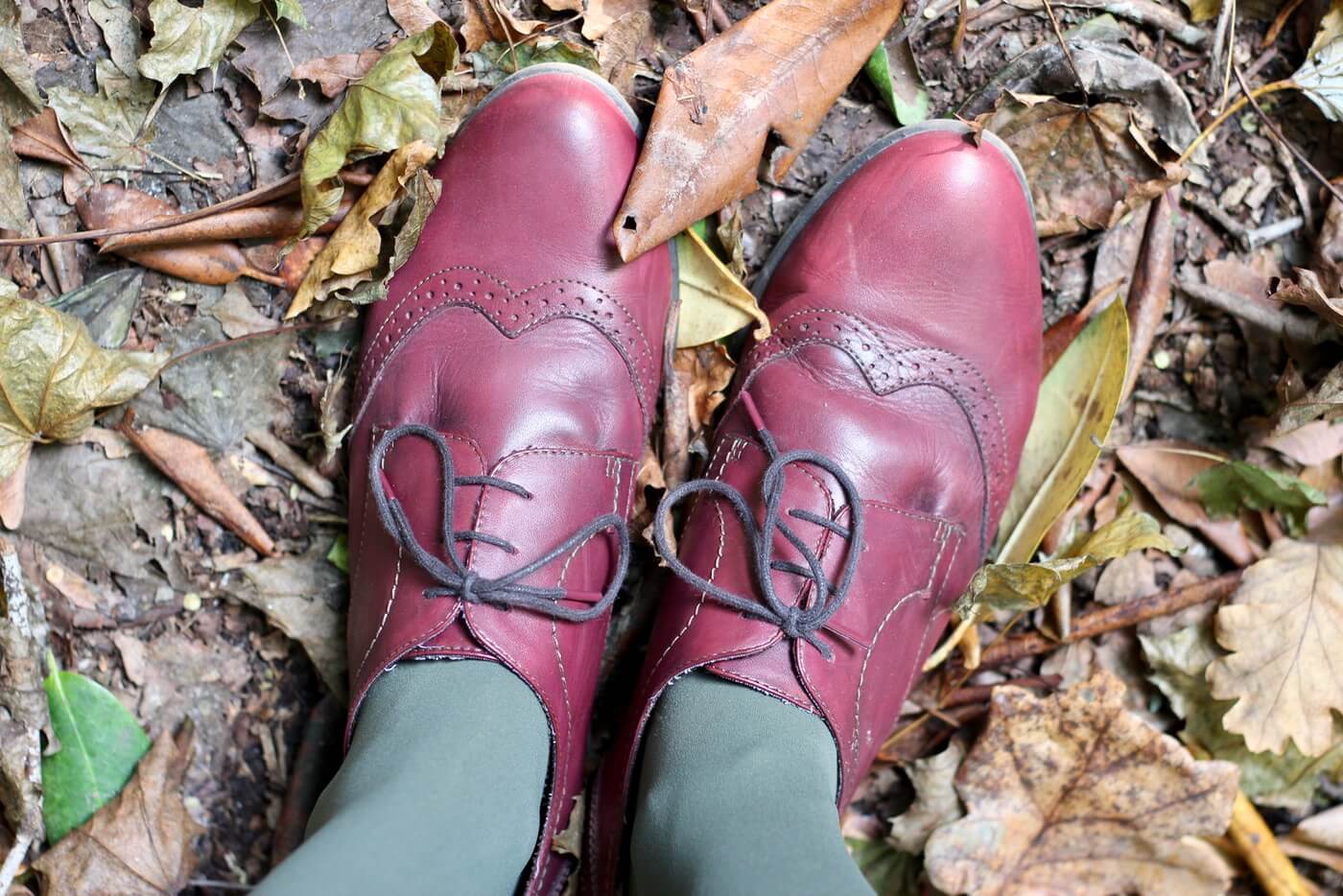 The shoes are also the same as in my last fair outfit. They're not vegan or fair, they are from before I started completely dishing fast fashion. I still love them a lot and hope they will last me forever. The tights are by Falke and haven't been worn for the last 5 years, sleeping in my drawer.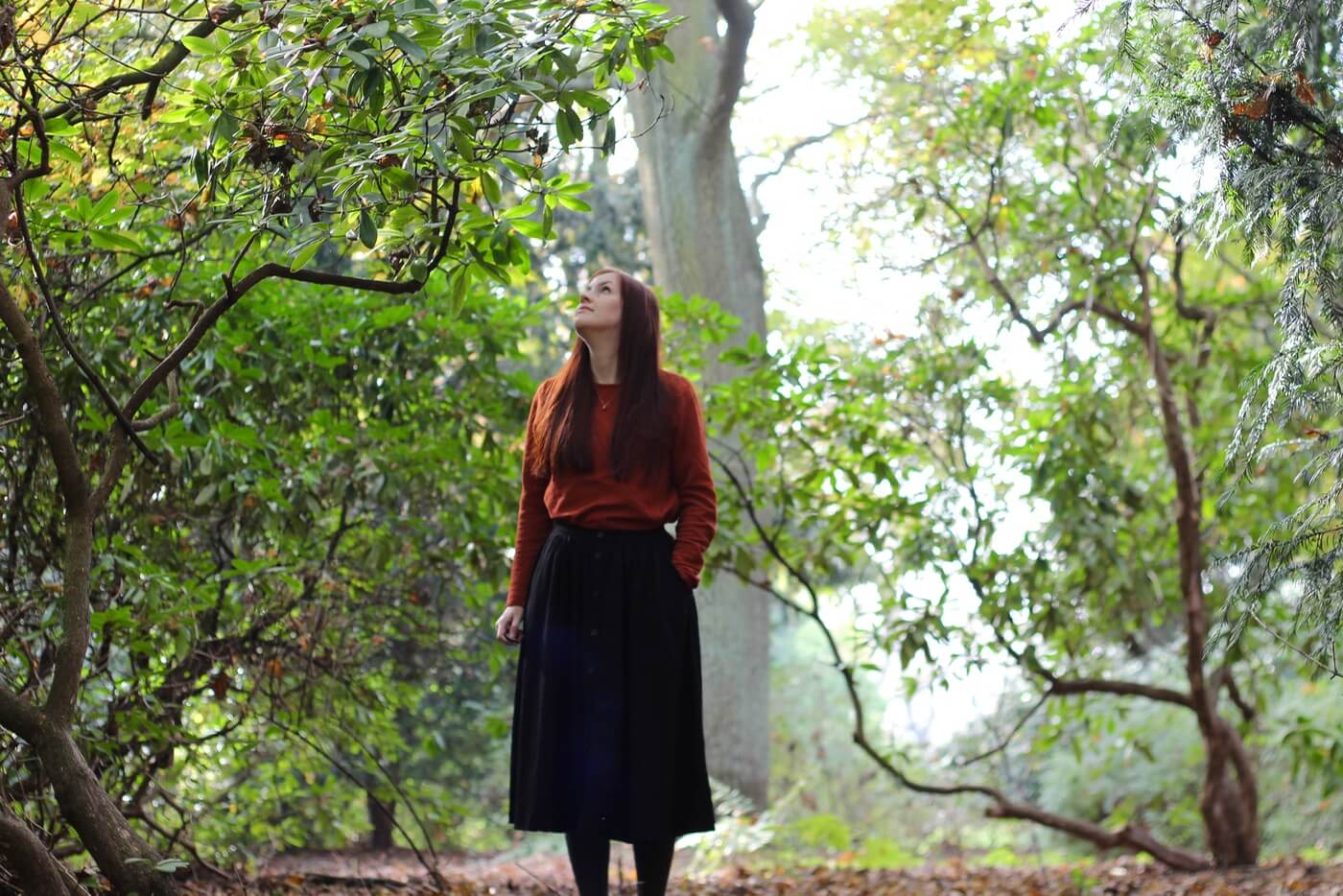 I took these pictures in the "Stadtpark" in Hamburg. I love the different plants and places there. As soon as you leave the public paths you are all by yourself and nobody watches your stupid poses.
Since I look like a bread roll on every picture that somebody else takes, I take all my outfit pictures myself. Maybe you noticed my tiny remote in the pictures. The last picture is a perfect example of things that can go wrong. I wouldn't cut my feet away, if I wasn't so far away from the display.
I hope you like my fair outfits! If you have a blog about fair fashion and sustainability yourself, please leave the link in the comments!
What are your favourite autumn colours?
Anni
Die Fotos sind diesmal wieder im Hamburger Stadtpark entstanden, ich liebe einfach die unterschiedlichen Pflanzen und Kulissen die man dort auf kleinstem Raum hat. Sobald man außerdem vom Weg geht, hat man völlige Ruhe und keiner guckt einem blöd an, wenn man mit seinem Stativ rumgeklettert und rumpost.
Da ich auf jedem Foto, was jemand anders von mir macht, wie ein Brötchen aussehe, mache ich übrigens all meine Outfit Fotos selbst, es sei denn es steht etwas anderes dabei. Meinen kleinen Fernauslöser habt ihr sicher auf den Bildern entdeckt. Das letzte Bild ist ein wunderbares Beispiel dafür, dass dabei auch eine sehr hohe Ausschussrate entsteht. Niemals würde ich jemand anderem auf dem Bild die Füße abschneiden, aber wenn das Display zu weit weg ist, passiert sowas schon mal.
Ich hoffe ihr habt Spaß an den fairen Outfits. Wie immer freue ich mich, wenn ihr mir Links zu euren Blogs rund um das Thema in den Kommentaren dalasst.
Was ist euer Lieblingsteil im Herbst? Und welche sind eure liebsten Herbstfarben?
Anni
MerkenMerken
MerkenMerken
MerkenMerken