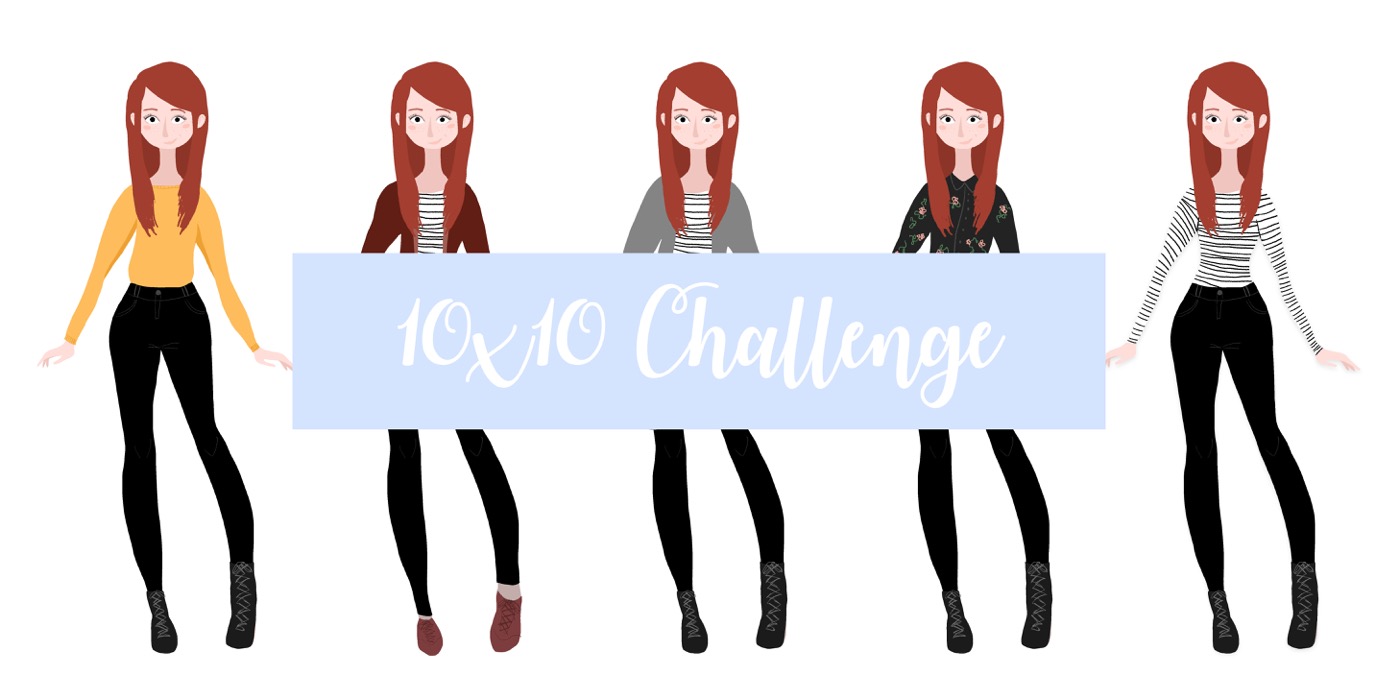 Hello everyone,
welcome to a bit of a different 10×10 Challenge! I wanted to do this for quite a while but didn't take the time to properly get into it. Since my efforts to take outfit pictures all failed because there are basically 3 hours of light a day and even then it doesn't get bright enough to take good photos, I decided to just draw myself in the chosen outfits.
What's the 10×10 Challenge?
Invented by Stylebee in 2015 this challenge is meant to show us that we don't need 1000 pieces in our closet to have an interesting look. Instead you create 10 Outfits with just 10 pieces.
The basic guidelines:
Pick any 10 items from your current closet
Style those items into 10 different looks
Use 10 days to do this
Have fun and don't take it too seriously
In genereal these 10 pieces should include tops, sweaters, pants, skirts, dresses, shoes and coats. Since it's incredibly cold and disgusting in Hamburg at the moment I cheated and left out the coat because I don't care if my coat fits my outfit. It should just keep my warm and dry so I just put on the warmest every day.
Not part of the 10 pieces are jewellery, bags, accessories, hats etc. That's why they are not on the pictures. And to be honest, I wear the same backpack for every occasion, every day.
For me the main point is to rediscover your wardrobe and try out new combinations you haven't tried before.
My 10 pieces
I chose the following pieces
black high-waisted Jeans
black midi skirt
bequemes "Kleines Schwarzes"
grey, warm Cardigan
rusty red Blazer
yellow Jumper
black and white striped top
black blouse with a floral print
red Budapester shoes
black boots
My 10 Outfits
There would be even more combinations possible because basically every top fits every bottom piece if the bottom pieces are all black. I wore and tested all outfits and really like them. I really like every single one of these pieces and really enjoy them wearing, so there's not a favourite Outfit here.
Conclusion
As soon there's a black key piece you're really free with the other pieces. I think there should't be too many patterns included together. I really like the challenge and they way it changes the way you see your clothes. I will definitely try this experiment again in spring. And I really enjoyed to paint the outfits.
Why is this a Christmas Lookbook?
Since we all go home for Christmas most of us need to pack their bags. And the only thing worse than sitting in a full train or plane is going there with a huge suitcase. So I think the 10×10 Challenge is a perfect challenge to try over Christmas. Just pack 10 pieces, get a new view on your things and travel lightweight.
My outfits include very chilled out ones as well as fancy ones so I feel ready for all the different occasions around Christmas and New Year. And you can still dress your outfits up with jewellery or accessories.
Have you ever tried the 10×10 Challenge?
Anni